Have you ever felt all too familiar with your home, thinking it has become boring? So you decide to rearrange your furniture or buy new ones, or change the color, look and feel to match your new style? Well, I have!
Your home requires constant upkeep and might occasionally need a complete overhaul should there be need for expansion. To ensure your home is a place that's always enjoyable to live in or visit, you have to take care of it.
Think about your website like your home.
Web and consumer behavior changes from time to time, and as a website owner, you need to keep with the trends. Therefore, to ensure your website visitors keeps coming back and get successfully converted to leads, you have to occasionally redesign, rearrange, or overhaul your website.
Below, we'll discuss the top 7 reasons you should consider redesigning your website.
1. &nbsp&nbsp&nbspYour Website Looks Outdated
When was the last time you designed or redesigned your website? Does it meet the year to year design trends report?
Digital marketing experts recommended to redesign your website every 2 years. Nothing stays on-trend for too long these days. And recent studies have shown that websites that are over two years since their last redesign have a very high bounce rate (more than 50%).
You need to analyze how out-of-date your website is. Is it responsive? Does it follow the current design trends and have favorable user journey? Being able to answer these questions will give you an insight on how to rebuild the website and the features it needs to have.
2. &nbsp&nbsp&nbspThe Site Design Does Not Target the Right Users
This happens a lot, especially in cases where an agency or business isn't clear on what to offer prospects (this is why it is important to niche down). Your business goals and target audience play a major role in determining how your website is designed. The website should attract prospects and answer any and all questions they have about your business.
A Web design questionnaire is a good way to help ensure the right prospects are targeted. However, not every web designer carries out this industry research process to determine user persona development.
Many inquiries might be coming in but from industries that doesn't fit your niche. To fix this, you'll first need to a new user persona development exercise. Then, incorporate your findings into the new website design.
3. &nbsp&nbsp&nbspPoor User Experience
A very crucial feature of any good website is its usability. How easy is it for visitors to use, understand, and navigate your website? An old and unmaintained website is a problem. But so is having a good-looking website that's too difficult to use.
Visitors may find it difficult using your website due to a cluttered and convoluted navigation, one too many CTAs, a confusing user journey, and many more.
However, you can reignite your website traffic by redesigning to enhance your website visitors' experience. First, you'll need to see what activities are happening on your website using heatmaps. Visitor feedback is another helpful way to garner good and predictable composition that can be utilized in improving your website's usability.
4. &nbsp&nbsp&nbspIt Isn't Mobile Responsive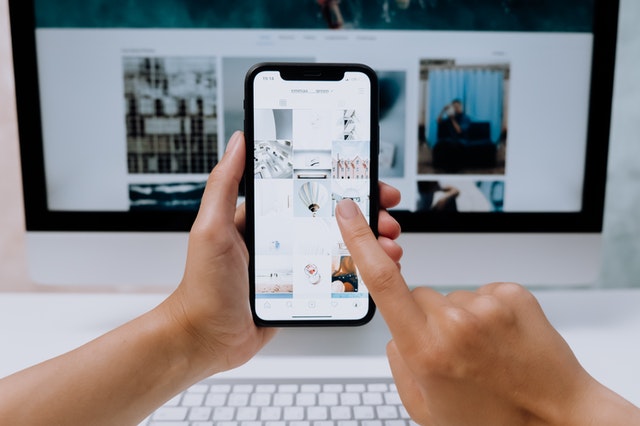 A good website must be fully responsive – work seamlessly on mobile devices.
Google has structured their search results such that, mobile friendly pages are shown first when a user searches for a piece of information with their mobile devices. This should not be surprising, as mobile devices accounts for 54.8% of global website traffic, according to statista.com.
Therefore, it is important your site is optimized for both desktop and mobile devices.
5. &nbsp&nbsp&nbspYou Want to Increase Your Visitor-to-Lead Conversion Rate
If you're driving a good deal of traffic to your website and want to convert those visitors into leads, your site needs to be designed around a clear conversion strategy.
Visitors should not have to spend more than a few seconds to understand what you are about. Your site should tell visitors what you do, and who your target audience is. The steps to becoming a customer must be easy and obvious, designed such that visitors are quickly convinced to take the next one.
Another way to convert more visitors into leads is by designing a landing page. Here is CreateWP's article on Reasons Why You Should Consider Building a Landing Page Now
6. &nbsp&nbsp&nbspYour Website Does Not Meet Your Current Business Goals
Your business goals may have changed overtime, or have expanded into new areas and offerings. To prevent losing prospects, it is important that your website fully reflect the services you now provide. With expansion comes the need for new content and functionality.
However, not every company will find it necessary to redesign their website to promote a new product or service. But if your website is not build to handle changes in the existing structure, you should consider building a new one.
7. &nbsp&nbsp&nbspTo Stay Ahead of the Competition
The moment your clients starts getting jealous of your competition, it means there's a problem.
However, it also shows there's something the competition is doing right that you need to learn from, improve on, and use to stand head and shoulders above them.
The goal of every brand is to lead the pack and stay continuously relevant. To do so, you must ensure your clients aren't swayed nor get envious of your competition. This will require regularly tweaking and improving your website to outperform theirs.